Meet the Winners of 2019
OGIB Fall 2018 Conference
Monday November 19
Hyatt Hotel, Calgary
Sentiment for oil stocks is lower than a snake's belly in a wagon rut.
The best junior producers are now trading under 3x 2019 cash flow.  In 2014 they were trading 8-11x.
The opportunity for investors has never been greater.
It's year-end tax loss selling.
Valuations are low
Yet production and cash flow growth per share is high–in the teens!
These companies have very low debt:cash flow ratios–many are under 1:1
Many are prudently shutting in some production–it's not grow grow grow and ruin shareholder value.
These stocks have been CRUSHED.  The bounce back in 2019 should give investors HUGE capital gains (though I confess, I think that could be the last half of 2019).
So what I've done is line up the best junior producers for you to hear and meet directly–at the source.
Reserve Monday November 19 on your calendar–that's just 10 days away.
It's my fall conference at the Hyatt Hotel in downtown Calgary. Book your flights and book your hotel TODAY.
OGIB readers–that's you–attract the best management teams because they know you are active investors.
Here is the EventBrite link to sign up: https://ogibconference.eventbrite.ca
You will get to meet and speak directly with the BEST management teams in THE BEST Canadian oil plays, along with some US exposure.
All of these producers can grow strongly within cash flow – and it's production growth per share that's important; they don't need any more equity or debt to grow.
And for the first time in years, we have a natural gas producer – Pat Ward, CEO of Painted Pony (PONY-TSX) will be presenting. Pat's presentation will be VERY timely as natgas prices hit new highs.
I think it's a GREAT line-up of speakers… but… THERE ARE ONLY 30 SEATS AVAILABLE.
Here is our day's agenda: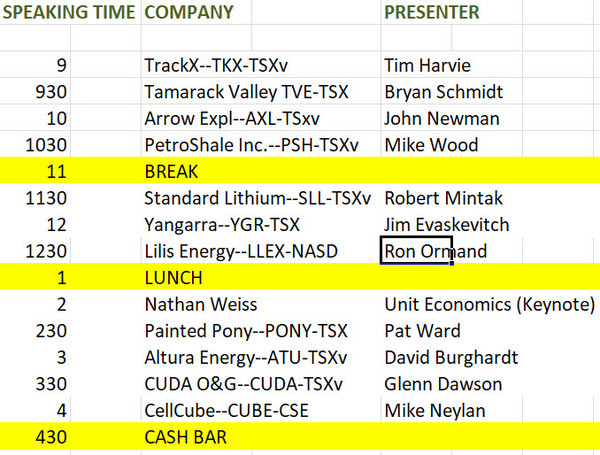 I think these stocks could be the best performers in 2019.  You have the chance to meet them in an exclusive, private setting, near the bottom of the oil market (but we're not there yet!).  You can ask them questions, 1-on-1 at lunch or at coffee breaks or after their talk, out in the foyer.
One is not an oil and gas company…TrackX is my largest holding, and I think will be The Biggest Winner of my life.  (I mean, so far–I'm pretty young at 53.)
You will also be able to speak with Nathan Weiss of Unit Economics–the man who has made me more money in the Market than anyone else.  Hear his thoughts on 2019, and what sub-sectors of the energy complex he likes the most.
Only a few seats remain, but if we get a deluge of people we will get the hotel to open up another room.
Retail investors rarely get the opportunity to meet with management in a quiet, uncrowded setting.  Take advantage of this–CLICK HERE to sign up!
Keith Schaefer