EDITORS NOTE:  The stock Fiat Chrysler (FCAU-NYSE) is now a TRIPLE this year.  When I bought it in the OGIB subscriber portfolio in early 2017, many subscribers thought I was crazy–and told me so directly.  I had been tracking the stock for months, waiting  for it to break out…and I pounced when it did.  It ran from $7-$11 in just 3 months–a 50% gain in a hurry!  I sourced the idea from a research report written by my newsletter colleague Reece Morgan–editor of the SuperInvestor Bulletin…it was so simply written, so compelling…I had to own it.
I sold it at $11 and never looked back, but the stock consolidated for months then broke out again just a couple months ago, having a huge run from $12-$17 in just two months.   I asked Reece to give an update on the story. It's timely for the simple reason that he put out a new pick on October 9, and I would urge all of you to do a risk free trial subscription with him to see what it is: https://seekingalpha.com/author/superinvestor-bulletin/research
THIS STOCK IS A TRIPLE IN 2017 AND IT WAS A NO-BRAINER
by Reese Morgan
Everyone hates missing out on a big investment win.
I can say with confidence that Fiat Chrysler was one that I was never going to miss.
Superinvestor Bulletin subscribers have enjoyed the entire ride that has taken shares of Fiat Chrysler from
$6.03 in June 2016 to nearly $18 today.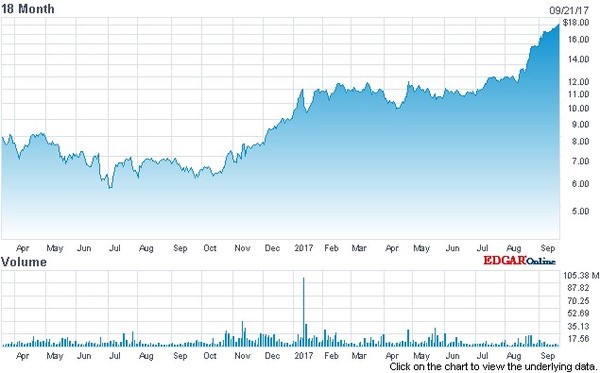 The reason for my confidence about not missing Fiat Chrysler can be found in the Superinvestor Bulletin investment formula.  It served Fiat Chrysler up to me on a silver platter.
At the Superinvestor Bulletin I am building a portfolio made up exclusively of the very highest conviction positions of the world's very top investors.
When I say top investors, I'm talking about hedge fund managers who have generated 15 to 20 percent annualized rates of return for decades.  These folks are the best of the best, beating the market by wide margins for long periods of time.
I found Fiat Chrysler because it represented an incredible one-third of the portfolio of one of my favorite investors, a long-time outperformer named Monish Pabrai.
When a top investor like Pabrai has made any stock that big of a weighting in his portfolio there is no chance that I'm going to miss it.
Since Pabrai launched his fund in 2000 he has returned 767 percent (after fees) for his investors.  That far exceeds the 134 percent for the S&P 500 over the same period of time.
His conviction about Fiat Chrysler forced me to take a long look at it, when I did I found something I really liked.
What Pabrai Saw Happening At Fiat Chrysler Is Exactly What Has Happened
As part of my investment process I don't just follow a great investor into a high conviction position.  I also need to understand why that investor has made a big bet on a particular holding.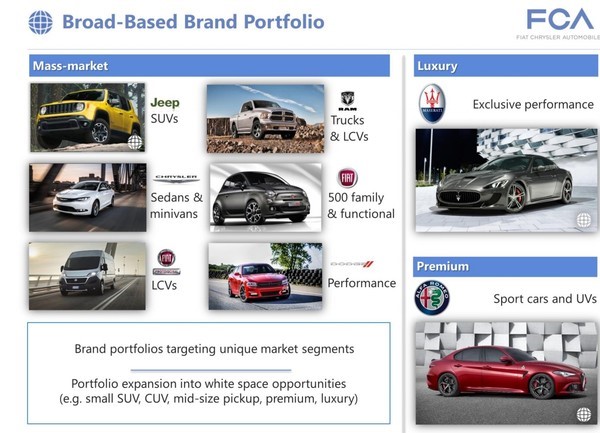 I was able to reverse-engineer Pabrai's thinking by listening to his interviews, reading his quarterly investor letters and spending some time reading Fiat's quarterly financial statements.
The picture that emerged was that in Fiat Chrysler, Pabrai saw a chance to invest alongside the best manager in the automotive industry.  Specifically, a man named Sergio Marchionne, Fiat's CEO.
Marchionne has created an incredible amount of wealth at the companies that he has been in charge of over the years.
Investing in the S&P 500 at the start of 1997 would have resulted in you having 2.5 times your initial investment today. Investing with Sergio would have brought you 35 times your initial investment.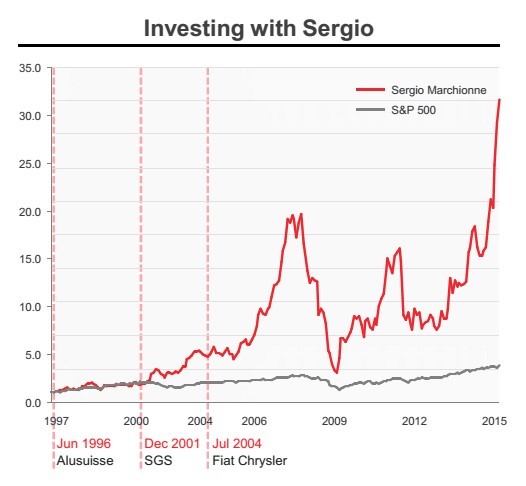 Past performance doesn't guarantee future results but it is the best indicator I can think of to go off of.
That is especially true if there is an underlying repeatable method that drives the success.  For both Pabrai as an investor, and Marchionne as a manager I believe that is the case.
Marchionne owns 14.6 million Fiat Chrysler shares personally, so he has a lot of money riding on this company and is very much aligned with shareholders.
In 2014 Marchionne laid out an aggressive plan to be achieved by 2018.
His aim was to add roughly $3 billion to Fiat's net profit through a combination of revenue growth of 20% and margin expansion (taking margins from under 5% to close to 7%).
For some perspective on how big a $3 billion increase to Fiat's net profit is, consider that in 2014 the company's net profit was just $1.1 billion.  I said Marchionne had an aggressive plan for Fiat, perhaps I understated it by more than a little bit….
As you can probably guess given the big share price move, the plan is working.  In fact it has worked so well that Marchionne actually revised his 2018 net profit target higher!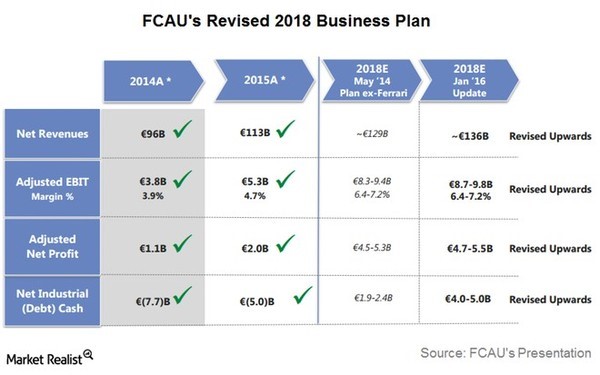 Marchionne is achieving this huge percentage increase in net income by simultaneously growing revenue and widening profit margins.  Those two things usually don't go hand in hand.
To grow revenue you usually need to give up some per unit profitability.  Not Marchionne who has added almost a full point to Fiat Chrysler's margins over just the last year.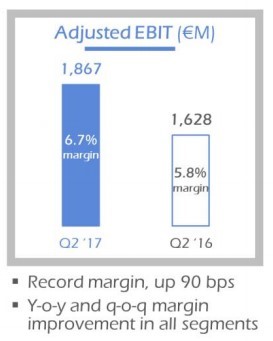 The operational plan that has achieved this has been a relentless focus on efficiency as well as a product portfolio shift away from low margin small cars to wide margin pickup trucks plus utility vehicles.
What Comes Next And Is There Any Upside Left In Fiat Shares?
Fiat's share price has tripled, so obviously the risk/reward relationship has changed since I first added the company to the Superinvestor Bulletin Portfolio.  When I put this company in the portfolio I felt there was little to no downside risk and massive upside potential.
That isn't quite the case today, but I do believe that significant upside remains.
Better still though, I see a catalyst that could help realize it in fairly short order.
That catalyst would be a spin-off of Fiat Chrysler's iconic off-road Jeep division. I believe that Jeep by itself is worth more than the entire company's market capitalization all by itself.
Marchionne has done incredible things with Jeep growing sales more than four-fold since 2009 when Fiat acquired Chrysler (and Jeep).  Spinning out Jeep would force the market to fully realize its value, something that isn't currently reflected in Fiat Chrysler's share price.
Fiat management has not publicly discussed any plans to spin off Jeep. However, on an earnings call in April 2017 when asked if he would consider spinning-off Jeep Marchionne simply said "yes".
After such a transaction Fiat Chrysler would still have auto brands Ram, Chrysler, Dodge, Fiat, Alfa Romeo and Maserati, along with a components business.
We will have to wait and see what happens.
To see my latest stock pick, risk-free, please put the link below in your browser:
https://seekingalpha.com/author/superinvestor-bulletin/research