THE BIGGEST MONEY-MAKING DAYS OF THE YEAR
BACK TO BACK
OCTOBER 3-4
Institutional investors have the ear of management.  They get to meet management regularly, and get more color on developing events at companies.  It's not inside information, but body language and details go a long way to deciding how big a position they carry, and what the potential gains are.
I want to give YOU that edge, and I've worked really hard to put together TWO SOLID DAYS of management presentations and meetings in Vancouver on October 3-4, at the Pan Pacific Hotel overlooking the ocean and North Shore Mountains.
The first day, you will meet the management teams of some of the top junior energy companies in Canada.   On the second day, my partner Paul Andreola has brought in management from some of the top performing junior stocks in Canada–from every non-resource industry you can think of.
Paul's track record in the first six months of 2017 was the best I have seen of any newsletter writer in my 27 years in the public markets.  In the two years since we started this newsletter together, he has one 15-bagger, two other 10-baggers and five other stocks that have gone up 3-5 times.
You should come just to hear Paul explain how he is able to find these companies before the rest of the Market!
Here's an example of what you'll hear and who you will meet on Tuesday October 3:
Canacol Energy (CNE-TSX; CNNEF-PINK) is just completing a gas pipeline that will allow production, cash flow—and hopefully the stock price—to soar.  They think they will finish December 1.  The gas has been drilled, and firm, lucrative contracts are in place.  Come hear CEO Charle Gamba give us an update.
Rob Colcleugh was a maven in Calgary for years, doing investment banking at MacQuarie.  Then he took over the reins at RMP Energy (RMP-TSX; OEXFF-PINK) late this summer.  In his first month, he sold all his non-core assets for $80 million, and drilled two wells, each for $1 million LESS than ever before.  Not a bad start.  Armed with $45 million net cash now and a massive land position in Alberta that all his neighbours would love to buy, come here what Rob's going to do at RMP in Months 2-6.
The stock trades at 58 cents, but 30 cents cash, 1400 boepd production valued around $50 million or 30 cents, plus over 50,000 acres in one of the hottest plays in Canada (recent deals done at $3200/acre) an investor can easily get $1.10-$1.35 value for the stock.  Come meet Rob!
The name of our conference on Tuesday October 3 here in Vancouver is the Subscriber Investment Summit.  It's free to attend, and here is the link:
https://www.eventbrite.ca/e/vancouver-subscriber-investment-summit-2017-tickets-35124200429?aff=OGIB
Presenting Companies include:
Aveda Energy & Transport    AVE-TSX
Canacol Energy CNE-TSX
Falcon Oil and Gas FO-TSX
Pentanova Energy PNO-TSXv
Renaissance Oil ROE-TSX
RMP Energy RMP-TSX
TrackX TKX-TSXv
The next day, in the same venue at the Pan Pacific, my colleague Paul Andreola is very purposefully holding his first ever  Smallcap Discoveries Investment Conference the day after our SIS conference–Wednesday October 4–in the same hotel, in the same venue.
This will be a great introduction to Paul's service, and I strongly urge you to sign up if you can be in Vancouver that day.  While energy–as I say–has had a difficult year, this has been Paul's best year ever.
To understand how he finds and vets his stock picks, I would urge you to attend.
Paul is all about cash flow…he will look at any company (outside of resources) that is making big revenue gains.
This SCD-exclusive event will pair Canada's best emerging growth companies – they could be located anywhere but they are listed in Canada — with the world's best smallcap investors.
It's a very different format than SIS.
1) It's much smaller–only 120 attendees are being allowed in.
2) It costs US$50 to attend, to ensure a high quality of attendee; people who are serious about investing. The entire registration fee is being donated to charity; we just want to know you're coming.
3) Companies present for 25 minutes each.
This creates a very exclusive, generally high net worth audience who are interested in meeting each other as much as the companies.
Paul is often able to get his subscribers access to very cheap financings (which is just not possible in the institutional world of mid-tier energy stocks) and to get in on these, you need to know management or subscribe to Paul's service.
Here you get to meet both.
Here are the details:
What: The Smallcap Discoveries Investment Conference – First Annual
When: Wednesday, October 4th (one day after Keith's OGIB conference)
Where: The Pan Pacific Hotel, Downtown Vancouver
Who: Exclusively Smallcap Discoveries members, plus a few select brokers, analysts, and institutional managers (any open spots will only go to Keith's OGIB list)
Cost: $50. This is only so that we know you are coming. We are donating 100% of registration fees to charity.
Click this LINK here to register and let us know you are coming (we have an EXTREMELY limited amount of space — don't delay).
Canada needs a conference focused on profitable, growing microcaps.
Here's a couple charts for you to consider: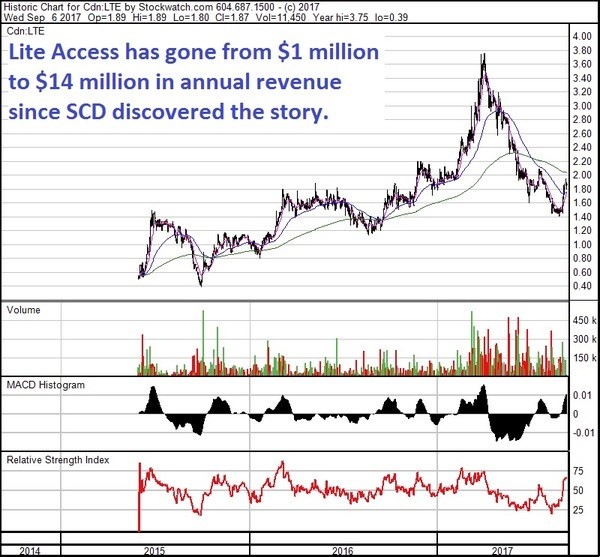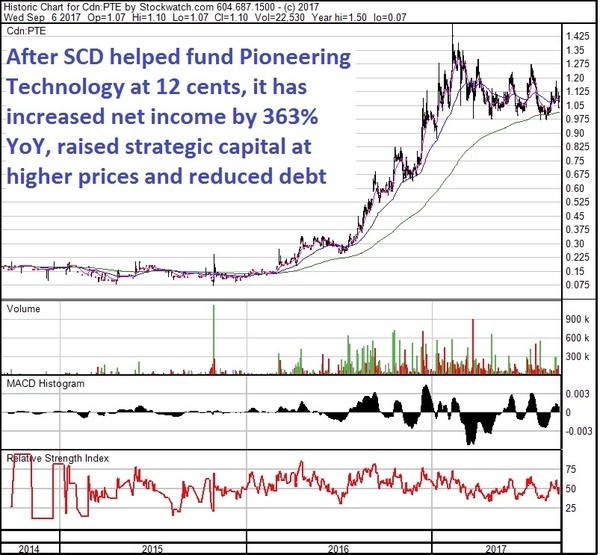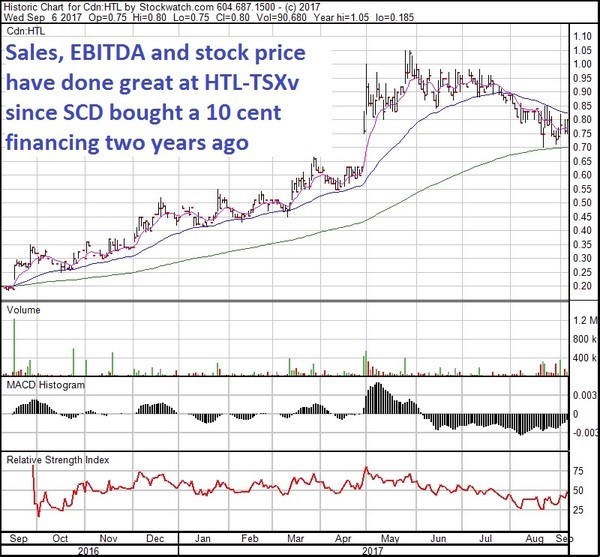 Here's what you'll get at the SCD conference (that you won't get anywhere else):
Exclusive access to the CEOs. We will be inviting of 8-12 of Canada's best emerging growth companies.
Companies like Lite Access Technologies (LTE.V), Hamilton Thorne (HTL.V / HTLZF:PINK) and Pioneering Technologies (PTE.V). And a few new ones we haven't even written about yet.
Cocktail Meet and Greet. The evening of the conference we will host a networking happy hour and dinner. Come meet us and the many faces that make SCD so special. You'll also get a chance to continue the conversation with CEOs you met earlier in the day
.
Keynote Speakers. 
Our goal is quality over quantity. It always has been at SCD. We want this to be an intimate experience. We will have the best companies and investors in attendance — and we want you to meet everyone.
One more time, here is the LINK to register. Registration is on a first-come, first-serve basis. Once we are sold out, registration will close — no exceptions. DON'T DELAY! (But we will be taking a wait list).
Again, this is the very next day after our OGIB SIS conference, to make it easy for all to attend.
CONCLUSION–successful small cap investors understand you can't be passive to make Huge Gains. You must build a network of other investors and get to know management.  There is no better two days in Canada's calendar to do this.
Register today!  We hope to see you there.
Keith Schaefer