Falcon Oil and Gas is in a "Catch-22" situation in Australia.  In fact, you could argue that natural gas consumers down the entire east side of the country is in the same "Catch-22".
A "Catch-22"—the name of the famous 1961 book by Joseph Heller—is "a dilemma or difficult circumstance from which there is no escape because of mutually conflicting or dependent conditions.
You see, natgas prices in heavily populated eastern Australia have soared—up to $25-$30/GJ, or 6x North American pricing–as LNG exports have created international competition for demand.  In fact, just yesterday, the Australian Energy Market Operator said they forecast there will not be enough natgas to meet summer demand at any price as early as next summer, through to 2025 (http://www.theaustralian.com.au/business/mining-energy/aemo-warns-of-blackouts-as-gas-runs-out/news-story/06c61083332d293f2a6ecd462dcba94a).
Falcon (FO-TSXv) and Aussie partner Origin Energy (ORG-ASX) have found a COLOSSAL natural gas shale deposit in Australia's Northern Territory that could supply the east coast with much needed gas.
But the government of Australia's Northern Territory—which has a population density less than Siberia—has imposed a moratorium on fracking.
That's a Catch-22—shale gas is the solution to the problem but it's also THE problem—at least according to the Northern Territory.
THE BACKDROP
Natgas pricing in Southern Australian has become volatile—due to LNG exports (is there a lesson here for North America?).
In July of 2016 natural gas prices in Southern Australia spiked as LNG exports in Queensland almost tripled total gas demand on the East Coast of the country.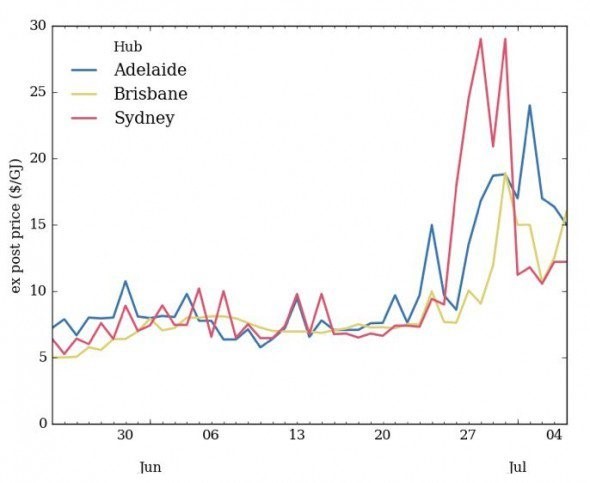 Source: reneweconomy.com.au
Southern Aussie gas prices reached daily average prices of more than A$25/GJ which is 600% higher than the price of gas in the United States when converted to greenbacks.
It was also multiples of what Australians are used to paying.  And then just yesterday
Historically, natural gas prices on Australia's East Coast had been based on long term contracts with stable A$3-4/GJ prices.  The introduction of LNG exports has resulted in a closer link of Australian natural gas prices to higher international pricing.
You can see in the chart above how prices had been well above the A$3-4/GJ price even before the July 2016 spike.
LNG demand may be the main driver behind this price spike but it isn't the only one.  Low oil prices have reduced the amount of cash flow Australian producers have available to invest in developing new supply.
Coal fired power plants have been closing—which is causing demand for natural for power in Australia to increase (again, just like the US).   New sources of supply in Australia have higher costs than legacy Gippsland and Cooper Basin production.
None of these factors are temporary problems.  These issues causing crazy high natgas prices are here to stay; it's a new paradigm.
THE BEETALOO BASIN
Falcon and Origin have made an onshore discovery so big that I'm quite frankly having a hard time wrapping my head around it.  This Beetaloo Basin play is perfect in the sense that it's huge, and it's in the middle of nowhere—the Aussie Outback.
They've been working on it for years, and recently, Origin Energy released a Discovery Report on behalf of their combined Beetaloo Joint Venture (BJV).
The Discovery Report indicated that the acreage covered by the BJV contains 496 TCF of Original Gas in Place.

Falcon's interest in the BJV is 30%, so 146 TCF of the gas in place belongs to the tiny explorer with a market capitalization of just over $200 million.
Those huge numbers are the raw gas in the ground.  Obviously not all of it can be considered recoverable.
How much of it can be?
It is early days, but Origin believes that roughly 16% of the Beetaloo gas can be considered technically recoverable.  That would mean 85 TCF in total is recoverable for the BJV and 25 TCF for Falcon specifically.
Those are still crazy, crazy big numbers especially for a company with such a small market capitalization.  The size of this resource helps explain why Origin was willing to carry Falcon for $200 million worth of drilling.  That's right—market cap=$200 million, and their carry on this one play alone is $200 million.
The acreage has had three vertical wells and one horizontal well drilled over the span of a couple of years. One well was the subject of a hydraulic fracture stimulation and an extended 57 day production test.
The drilling results, the production test and thousands of kilometers of seismic data combined were the basis for the Origin prepared Discovery Report.
And the Discovery Report included only the "B" shale of the middle Velkerri formation.   Within the Middle Velkerri there is more potential through the "A" and "C" formations plus an entire other shale formation called the Kyalla shale.
The Discovery Report covers 16,000 square kilometers which is the equivalent to almost 4 million acres.  That is basically the size of the entire country of Wales.
Falcon and Origin's massive Beetaloo discovery could be a huge new supply of natural gas that would keep a lid on Australian natural gas prices for decades to come. We know from experience here in North America how massive shale resources can provide an entirely new future for the pricing of the commodity.
The Catch-22 – A Northern Territory Fracking Moratorium
Origin and Falcon have unleashed a massive discovery that could provide Australia's consumers and economy with a major competitive advantage for decades to come.
For shareholders of these two companies (especially tiny Falcon) the discovery has the potential to be nothing short of a winning lottery ticket.  And it's not just that—millions of Aussie natgas consumers would benefit hugely as well, when you're paying $25/GJ for energy.
Do you feel the "but" coming?
On September 14, 2016 the Government of the Northern Territory in Australia announced a moratorium on hydraulic fracturing.
So here is little Falcon Oil and Gas sitting on trillions of cubic feet of natural gas –- potentially worth billions—and now not knowing whether they will ever be allowed to frac another well?
Of course a moratorium is a pause, not a final conclusion.  Since the moratorium was announced an independent Panel has been established to evaluate the issue and report back to the Government.  An interim report is expected by mid-2017 and a final report by the end of the year.
What is the likely recommendation of the Panel going to be?  I wouldn't ever pretend to be able to predict such a thing.
What I do know is that the Australian Northern Territory is one of the least populated places on the planet.  The population density here is 0.2 people per square kilometer.  For some perspective on how sparsely populated that is consider that Siberia has 3 people per square kilometer.
Any concerns over pollution of drinking water have to be lower here than almost anywhere.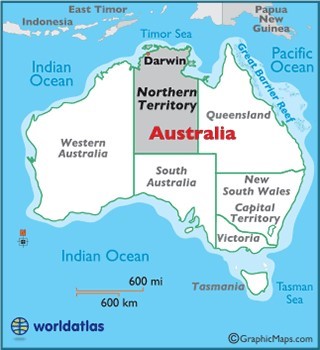 Source: Worldatlas.com
As you can imagine, Origin and Falcon will not be drilling any additional wells until the outcome of the moratorium is known.  For shareholders of Falcon that means there is nothing to do but sit and wait.
And Aussie gas consumers can sit and fume…and keep paying.
In Joseph Heller's book, Catch-22 refers to "absurd bureaucratic constraints" on soldiers in World War II.  I think this situation fits that phrase.