I'm very excited to introduce Reece Morgan, editor of SuperInvestor Bulletin (formerly Hedge Fund Insiders–that name was already taken!).  I've partnered with Reece on his newsletter because I LOVE HIS RESEARCH.  It is no-nonsense, factual, and covers what the top fund managers in the world are overweight.  Reece is a long term investor and I think he will greatly benefit our investor community.  Below you will get the story behind the story, and the stock that will make it all pay.
The Housing Bubble Genius Is Back – And He Has 16% Of His Portfolio In This Company
If you have read or watched "The Big Short" you will be familiar with Dr. Michael Burry.  Actor Christian Bale portrayed him in the hit movie in 2015.
If you aren't—well, his success story—going from a broke student to an investing legend—will warm your heart.  But this story can also warm your wallet, as we'll also let you know his latest Big Idea—into which he has put a whopping 16% of his fund.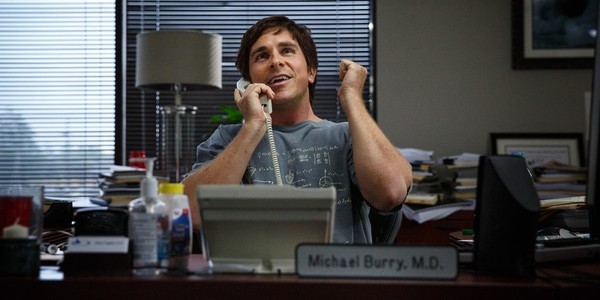 Source: Screenrant
In November 1996 Michael Burry was a young medical intern with a negative net worth of $145,000.  With no financial training and the weight of student loans on his back Burry logged onto a computer and started blogging on a site called Siliconinvestor.com.
There, he created a thread named "value investing" and embarked on a journey that would lead him to places he couldn't even have imagined.
The late nineties of course was the age of tech stock mania.   Despite having no investing experience Burry quickly figured out that the market was giving tech stocks crazy valuations.  He took a wide birth around those.
Instead Burry focused on writing about and investing in compelling value opportunities that the market had tossed aside in this tech mania.
It quickly became apparent that Burry wasn't just good at identifying undervalued stocks.  Burry was a phenom.
The incredible thing was—Burry was finding these incredible investments while carrying his full medical intern workload. Burry would work his 16 hour hospital shift and then research and blog about stocks from midnight to three in the morning.
To work those kinds of hours is not normal.  To work those kinds of hours and be extraordinarily successful is even less normal.   As Burry later discovered, he wasn't normal.  He suffers from a condition called Asperger's syndrome.
Asperger's sufferers have an extremely hard time in social settings, often have extremely high IQs and tend to be extremely obsessive about their passions.  Burry once sadly admitted that "it is not in my nature to have friends".
Asperger's is not a lot of fun for the people living with it.  It can make for a lonely existence.  It does however bring with it an unusual set of skills.  With the extremely high IQ and obsessive nature that goes along with Asperger's, it creates the perfect recipe for extraordinary achievements.
As Burry kept posting his investment ideas online he quickly began to develop a following.  He built a loyal following among the retail investors who came across his work, but there were other much deeper pocketed people watching him.
Burry noticed from the internet domains of his blog visitors that many of them were coming from large mutual fund firms and Wall Street investment banks—places like Fidelity and J.P. Morgan.
At one point he said some negative things about Fidelity on his blog and immediately received a cease and desist letter from the Fidelity legal team.  Burry couldn't believe it, how did Fidelity respond so quickly and why did they care what some part-time investor said?
Following His Dream
In 2000—after his father died—Burry made a life-altering decision.  He decided he wasn't committed to medicine and wanted to follow his passion.  He quit his medical career and told his blog following that he would no longer be posting because he was going to start his own hedge fund.
That was quite a bold move for someone who was barely out of debt.  With the money he had and some more that some relatives were willing to put into the fund, Burry really didn't have enough to make a go of it as a hedge fund manager.
And then the phone rang.  More than once.
The first call was from hedge fund legend Joel Greenblatt (Gotham Capital).  Greenblatt had been watching the doctor's blog for quite a while and had actually traded off of his ideas. Greenblatt's offer to this newly retired medical intern turned hedge fund manager…….. one million dollars for a quarter of Burry's hedge fund.
Just like that Burry was a millionaire.
A second call came from the reinsurance firm White Mountains Insurance which gave Burry another $600k for a piece of his fund and another $10 million to invest in the fund.
That tells you exactly how good Burry's investing skills are.
Burry was off and running.
And there really wasn't anyone who could keep up.
In 2001 the tech bubble was melting down and the S&P 500 fell 12 percent.  Burry returned 55 percent beating the market by just 67 percent.
In 2002 Burry was up 16 percent while the market crash accelerated, down by another 22%.  This time Burry notched a 38% outperformance.
In 2003 the S&P finally turned and went up 29%.  It still couldn't come close to Burry who had a 50% return and another outperformance of 21%.
By 2004 the Burry's fund had grown to $600 million and he had stopped accepting new investors.  Burry new that size was the enemy of big returns and he didn't want his performance to suffer.
The Investment That Would Make Him Famous
It was around this time that Burry found the idea that would change his life.  For Burry the U.S. housing market became an obsession.
What got Burry hooked was that he couldn't understand how the tech stock bubble could have collapsed in dramatic fashion yet Silicon Valley real estate was still rising.
It just didn't add up.
Most people would just shrug their shoulders and move on.  Burry with his Asperger's isn't wired that way.
Instead he did what he does best…he analyzed the issue compulsively until he found the answer.
Irrational lending practices were underpinning housing prices.
Not just in Silicon Valley, but across almost the entire country.
The more he read, the more Burry became extremely bearish about U.S. housing prices.  Burry had the housing bubble and crash figured out years before it actually happened.
After diagnosing the problem, Burry started looking for a way to make a killing from this housing bubble unwinding.  He turned over stones that only he was interested in looking under.
What he found was a way to place small bets against the housing bubble in exchange for enormous profits if those bets panned out.
Of course Burry didn't consider these as "bets", his unparalleled analysis made it very clear to him that these wagers were sure things.
Burry found a way to "short" subprime-mortgage pools (rotten loans) by buying credit default swaps on those securities.
Owning a credit default swap on a pool of subprime mortgages is basically like owning an insurance policy against those mortgages defaulting.  It is much like buying insurance against your home being damaged.  The cost of the insurance is relatively modest, maybe a thousand dollars, but the payoff if the house burns down is the value of the house which is several hundred thousand dollars.
Since nobody else was really worried about these bonds defaulting Burry was able to pay ridiculously tiny premiums to own these swaps against hundreds of millions of dollars of subprime mortgages.
Genius doesn't even begin to describe it.
Given his obsessive nature the Burry didn't just own credit default swaps on any old subprime mortgages.  He spent countless hours figuring out exactly which particular mortgage pools were of the lowest quality.
Burry focused on location, loan to value ratios, absence of lending documentation and everything else under the sun that gave the best indication that the borrower would default and the underlying property would be worth less than the mortgage.
Everyone knows how this story played out.  These subprime mortgages turned out to be the most toxic securities imaginable.  For small up front premiums Burry and his investors made many, many multiples of their initial investment.
Burry scored lottery type returns but luck had nothing to do with it.
The doctor and his story were so good he was featured in a best-selling book written by Michael Lewis called "The Big Short".    Today you can see our young doctor portrayed by Christian Bale in a movie of the same name.
If Burry Gave You An Investment Tip Would You Take It?
After his huge windfall from betting against the U.S. housing market Burry disappeared for a while.
From November 2000 until June 2008 when he shuttered his initial fund Burry returned 489% to investors (after his 20% performance fee).
The S&P 500 returned 3% over this time.
In recent months he has returned with a new investment fund.
And he just put a whopping 16% of it into THIS (hyperlink to SA) company. I've just explained what happened to his last Big Idea—he made so much money he retired for a couple years.
That sounds like worthy goal.
We just released a 20 page report explaining Burry's Next Big Investment Idea.  He obviously thinks investors will make a lot of money with this stock.
You can access the full write up and get Michael Burry working for you—for just $12. And after that, I'll notify you of any other Big Position he has in his portfolio. Just follow the link below and get started:
http://seekingalpha.com/author/superinvestor-bulletin/research
Keith Schaefer