I've partnered with my friend Reece Morgan on his newsletter–The SuperInvestor Bulletin.  It tracks the favourite stocks of the fund managers who have the best long term track records in the investment business.  This…somewhat-energy-related stock may surprise you. I own it.
This Company Is Such A Slam Dunk
This Legend Has 33% Of His Portfolio In It
by Reece Morgan
There are investment ideas that are worth looking into.
And then there are investment ideas that you have to look into.
We believe that we have found one of those.
One of the best hedge fund managers in the world thinks he has found the single best opportunity he has ever seen.
How much does he like it?
Enough to put a jaw-dropping one-third of his entire fund into it!
He has effectively risked his entire career on this one investment.  A 30 year career that has made him very wealthy.
From Credit Card Debt To A Hedge Fund Superstar
In the late 1980s Monish Pabrai seemed just like everyone else working 9 to 5 for Tellabs high speed networking group.
But Monish was not just like everyone else.  Not even close.
In his spare time Monish started his own IT consulting business funding it with $30,000 from his 401k and $70,000 of credit card debt.
Monish was able to do more in his spare time than 99% of the world does with all of its time.
By 1999 Pabrai had long since quit his Tellabs job and had been able to close on the sale of his own business for $20 million.
In a decade he took at $100,000 investment and turned it into $20 million…..in his spare time!
Then he really got down to business.
With the after tax proceeds from $20 million sale he founded his own hedge fund (the Pabrai Fund).
He modelled the fund after the Buffett Partnership of the 1950s.
Monish liked how Buffett had treated his investors fairly.  Today most hedge funds charge a flat 2% management fee on assets under management plus a 20% incentive fee on profits.   Buffett charged no management fee and incentive fee only on any profits after the first 6% of returns.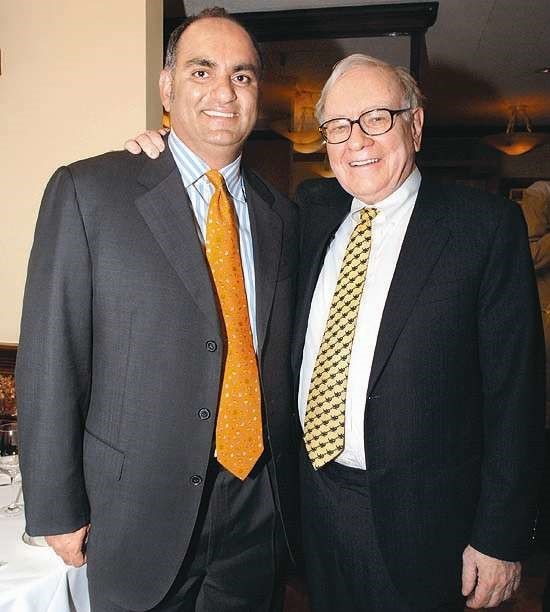 Monish and Warren – Source: Soldionline.com
With no fees being earned unless he returned over 6% per year for his investors Monish was fully motivated to outperform.
And perform he has.
Since forming his fund in 2000 he is up 474% versus only 94% for the S&P 500.
He has beaten the market by 380% after his fees have been deducted.  That is an outstanding level of performance over a 16 year stretch.
Remember most funds don't even keep pace with the S&P 500.  Pabrai's returns put him amongst the best of the best.
Heads I Win Big, Tails I Don't Lose Much
Pabrai's investment success can be attributed to his incredible discipline.
He rarely buys anything.  He sits on his hands and waits for slam-dunk opportunities.
As you would imaging Monish runs a very concentrated portfolio often owning only five or six different companies.
Since he isn't diversified he has to be certain that he doesn't make mistakes.
He has described his investing style as being focused first and foremost on protecting against downside risk.  Like his idol Buffett, Pabrai's main focus is on not losing money.
Pabrai refers to the investments he is willing to make as opportunities where, like with a coin flip there are only two possible outcomes……neither of which are bad.
He describes this as "Heads I win big, tails I don't lose much".
When Pabrai invests he believes he is either going to make a bundle or break-even.  If he believes there is a real chance to lose money he will not pass go.
It requires tremendous discipline to wait only for fat pitches like this.
All of this has us trembling with greed over the company that Pabrai just put 33% of his fund into.
Why Wouldn't You Want To Ride On Pabrai's Coattails?
Monish Pabrai started his business career in the late 1980s.
He had next to no cash and funded himself using credit card debt.
In his first decade he turned that credit card debt into a $20 million company that he sold.
From there he started a hedge fund and over the next 16 years outperformed almost every investor on the planet.
After all of this success he has decided to put 33 percent of his fund into just one company.
Clearly he believes that the risk/reward presented by this company is insanely attractive.
Our subscribers now have access to a full 20 page report on this company where we break-down exactly why Pabrai has made
this huge bet.
When you read the report it isn't going to be hard to understand his reasoning.
For just $12 per month or $129 per year you can get the highest conviction ideas from Burry and other investing greats each and every month.  We would love to have you join our subscriber community.
Just follow the link below and get started:
http://seekingalpha.com/author/superinvestor-bulletin/research