by Donald DonyThe major decline in oil prices over the past five months has placed many securities into a freefall. The commodity-rich SPX/TSX, for example, has fallen 10.00% since September, putting into a bear market (
Chart 1
).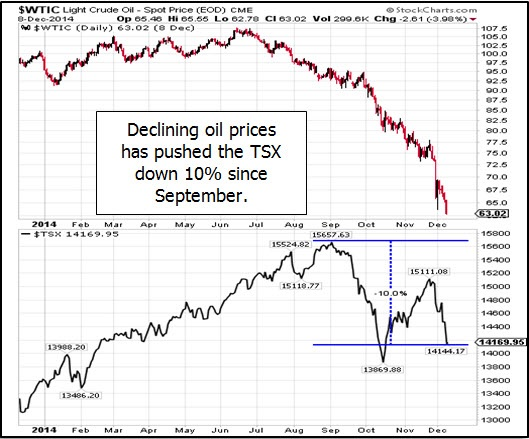 Chart 1
The TSX Energy sector has declined even further, cratering almost 40% bringing on the expectation that a sharp rebound from this group is imminent (
Chart 2
).  However, the majority of energy stocks on the TSX are not displaying the typical 'rebound' characteristics. They are still in a pattern of lower highs and lower lows (downtrend trend).  Nevertheless, there are a few stocks that are leading the sector and appear to stabilize or recover.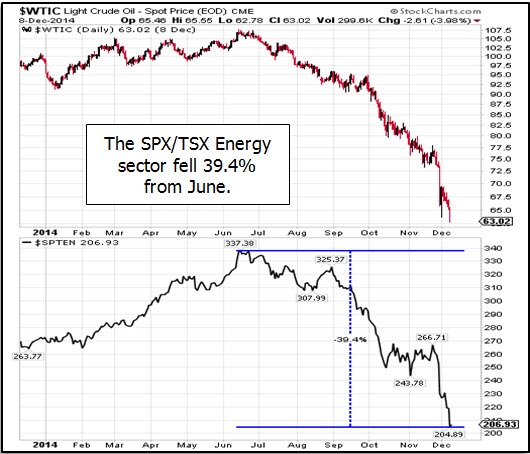 Chart 2
Canadian Natural Resources Ltd. (CNQ) ranks near the top of the list with its "Double bottom" pattern and rising building buying momentum.  Though CNQ has not started to recover, only a move above $39-$40 would imply that, there is certainly evidence of rebuilding strength (
Chart 3
).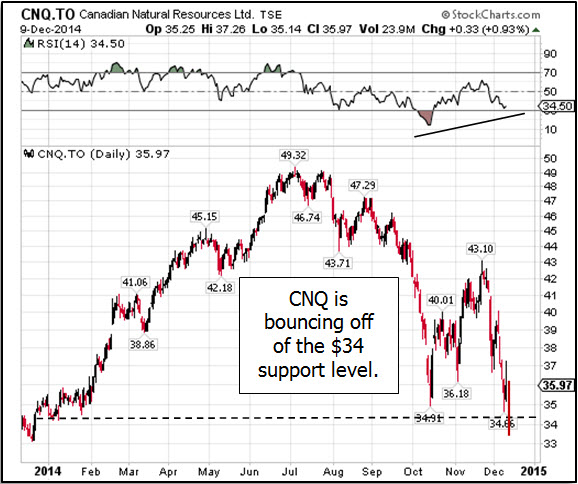 Chart 3Petyo Exploration & Development LTD. (PEY) is another example of a potential bottom (Chart 4).
With the rebound from the October low ($30.41) and a retest in December, PEY appears to be stabilizing.  We would still need to see an advance over $35 to confirm the new uptrend, but the outlook is improving.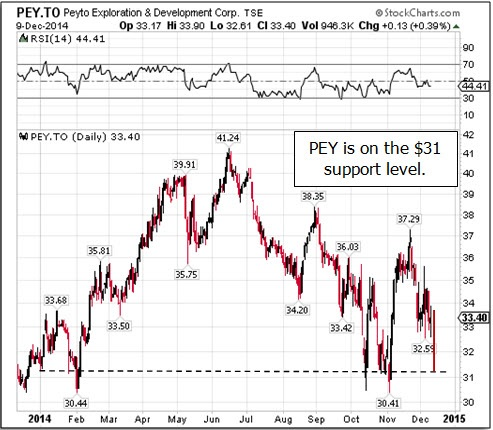 Chart 4
Advantage Oil & Gas Ltd. and Peyto have similar trading patterns.  Both saw fresh new lows in October and some stability starting to occurr at a higher level in December.  Buying momentum (RSI) moved out of the oversold level (30 or below) in November and appears to be recovering.  The recent consolidation in December 2014 matches the resistance high back in January 2014, which suggests some buying pressure is returning.  A move over $5.50 would soliditfy our view that AAV is starting a recovery (Chart 5).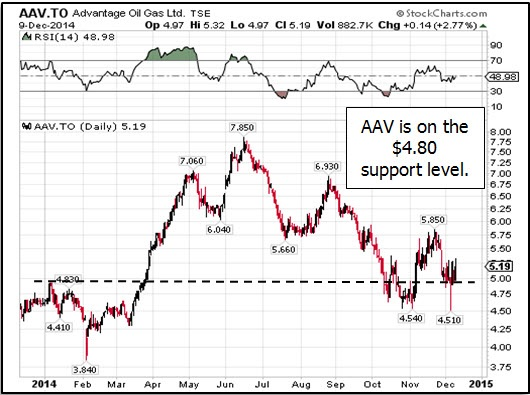 Chart 5PrairieSky Royalty Ltd.  (PSK) is a newer addition to the TSX Energy sector.  Nevertheless, it is already showing traditional patterns.  A well-formed "Double bottom" has developed over the last few months.  These formations, if it is not broken, are often the precursors of a solid base. A move above $33 would increase the odds of a recovery to $37.  We would buy with caution at this point (Chart 6).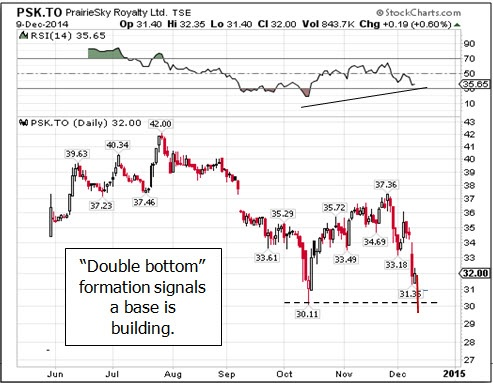 Chart 6Bottom line:
 WTI is nearing the bottom of the $60-$65 support range.  If oil prices move below this zone, then $55-$50 is the next range.  The impact of sub-$60 prices will have a negative impact on these four stocks.  We suggest erring on the side of caution and staying on the sidelines for now.Donald W. Dony, FCSI, CFTe, MFTA
www.technicalspeculator.com
dwdony@shaw.ca
EDITOR'S NOTE—This stock rout in oil means I can buy the leaders cheap—and I did that yesterday.  This company is obscenely profitable even at these oil prices.  It has always traded at a HUGE premium.  But not yesterday. True Wealth is buying the best-of-breed companies at low points in the cycle. CLICK HERE to learn more.